BEARBERRY
"Please stay a little bit longer. I wanna forget these rules." - Stay
Bearberry was, by all means, a perfectly ordinary cat.
No grand ideals. No real ambitions, or motives, no desire to become a quarrier or anything out of the ordinary. Sure, she always enjoyed caring for others, which was a tad out of the ordinary for her kind, and everyone said she was a bit "difficult to follow" because of her stutter and ever-moving whiskers, but those are all relatively normal abnormalities.
Except, one day, she went crashing down through the desert sands and into a hidden pocket of the world, one in which an ancient tree grew and a strange creature stood, shell-shocked, as if it had never seen anything like her before in its life.
And so now she's accidentally the only mortal cat who knows the truth about the island she lives on, and even though she knows she should just leave it be, she can't help but returning to that strange cat again and again.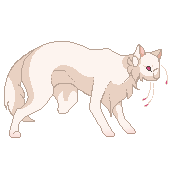 (she/her)
Description
Dominant white
Edit List
[nr] weight (heavy), missing leg, expression
[c] ear placement, eye shape, pupil shape, whiskers, fangs, shorter tail
[uc] mid fur, short ears, unnatural eye color
Relationships
Eolwyn - Affectionate, beloved. If not in love, something close to it.